Graphical Models
A graphical model can be seen as a mathematical or statistical construct connecting nodes (or vertices) via edges (or links). When pertaining to statistical models, the nodes might represent variables of interest in our data set, and edges specify the relationships among them. Visually they are depicted in the style of the following examples.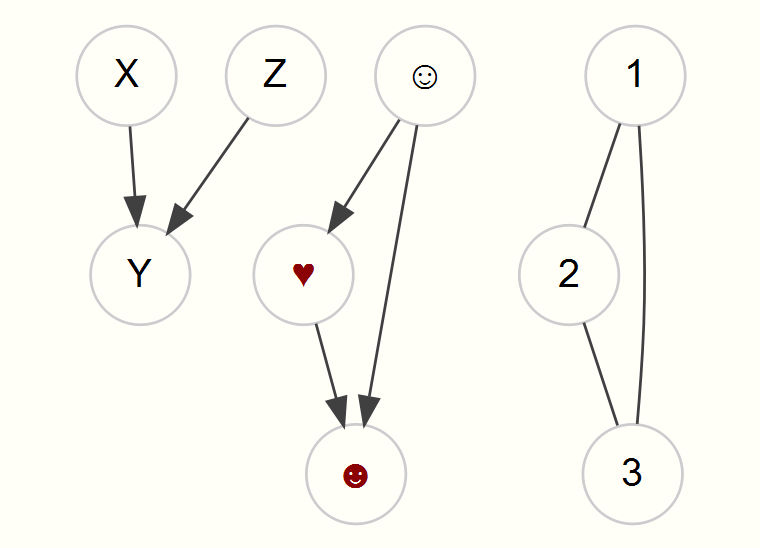 Any statistical model you've conducted can be expressed as a graphical model. As an example, the first graph with nodes X, Y, and Z might represent a regression model in which X and Z predict Y. The emoticon graph shows an indirect effect, and the 123 graph might represent a correlation matrix.
A key idea of a graphical model is that of conditional independence, something one should keep in mind when constructing their models. The concept can be demonstrated with the following graph.

In this graph, X is conditionally independent of Z given Y- there is no correlation between X and Z once Y is accounted for2. We will revisit this concept when discussing path analysis and latent variable models. Graphs can be directed, undirected, or mixed. Directed graphs have arrows, sometimes implying a causal flow (a difficult endeavor to demonstrate explicitly) or noting a time component. Undirected graphs merely denote relations among the nodes, while mixed graphs might contain both directional and symmetric relationships. Most of the models discussed in this document will be directed or mixed.
Directed Graphs
As noted previously, we can represent standard models as graphical models. In most of these cases we'd be dealing with directed or mixed graphs. Almost always we are specifically dealing with directed acyclic graphs, where there are no feedback loops.
Standard linear model
Let's start with the standard linear model (SLiM), i.e. a basic regression we might estimate via ordinary least squares (but not necessarily). In this setting, we want to examine the effect of each potential predictor (x* in the graph) on the target variable (y). The following shows what the graphical model might look like.
While we start simpler, we can use much of the same sort of thinking with more complex models later. In what follows, we'll show that whether we use a standard R modeling approach (via the lm function), or an SEM approach (via the sem function in lavaan), the results are identical aside from the fact that sem is using maximum likelihood (so the variances will be slightly different). First, we'll with the standard lm approach.
Now we can do the same model using the lavaan package, and while the input form will change a bit, and the output will be presented in a manner consistent with SEM, the estimated parameters are identical. Note that the square of the residual standard error in the lm output is compared to the variance estimate in the lavaan output.

Call:
lm(formula = math21 ~ male + math7 + read7 + momed, data = mcclelland)

Residuals:
    Min      1Q  Median      3Q     Max 
-6.9801 -1.2571  0.1376  1.4544  5.7471 

Coefficients:
            Estimate Std. Error t value Pr(>|t|)    
(Intercept)  4.84310    1.16418   4.160 4.08e-05 ***
male         1.20609    0.25831   4.669 4.44e-06 ***
math7        0.31306    0.04749   6.592 1.76e-10 ***
read7        0.08176    0.01638   4.991 9.81e-07 ***
momed       -0.01684    0.06651  -0.253      0.8    
---
Signif. codes:  0 '***' 0.001 '**' 0.01 '*' 0.05 '.' 0.1 ' ' 1

Residual standard error: 2.329 on 324 degrees of freedom
  (101 observations deleted due to missingness)
Multiple R-squared:  0.258, Adjusted R-squared:  0.2488 
F-statistic: 28.16 on 4 and 324 DF,  p-value: < 2.2e-16
lavaan 0.6-2 ended normally after 21 iterations

  Optimization method                           NLMINB
  Number of free parameters                          6

                                                  Used       Total
  Number of observations                           329         430

  Estimator                                         ML
  Model Fit Test Statistic                       0.000
  Degrees of freedom                                 0
  Minimum Function Value               0.0000000000000

Parameter Estimates:

  Information                                 Expected
  Information saturated (h1) model          Structured
  Standard Errors                             Standard

Regressions:
                   Estimate  Std.Err  z-value  P(>|z|)
  math21 ~                                            
    male              1.206    0.256    4.705    0.000
    math7             0.313    0.047    6.642    0.000
    read7             0.082    0.016    5.030    0.000
    momed            -0.017    0.066   -0.255    0.799

Intercepts:
                   Estimate  Std.Err  z-value  P(>|z|)
   .math21            4.843    1.155    4.192    0.000

Variances:
                   Estimate  Std.Err  z-value  P(>|z|)
   .math21            5.341    0.416   12.826    0.000

R-Square:
                   Estimate
    math21            0.258
As we will see in more detail later, SEM incorporates more complicated regression models, but at this point the parameters have the exact same understanding as our standard regression, because there is no difference between the two models except conceptually, in that SEM explicitly brings a causal aspect to bear on the interpretation. As we go along, we can see the structural equation models statistically as generalizations of those we are already well acquainted with, and so one can use that prior knowledge as a basis for understanding the newer ones.
Path Analysis
Path Analysis, and thus SEM, while new to some, is in fact a very, very old technique, statistically speaking3. It can be seen as a generalization of the SLiM approach that can allow for indirect effects and multiple target variables. Path analysis also has a long history in the econometrics literature though under different names (e.g. instrumental variable regression, 2-stage least squares etc.), and through the computer science realm through the use of graphical models more generally. As such, there are many tools at your disposal for examining such models, and I'll iterate that much of the SEM perspective on modeling comes largely from specific disciplines (especially psychology and education), while other approaches that are very common in other disciplines may be better for your situation.
Bayesian Networks
In many cases of path analysis, the path model is not strongly supported by prior research or intuition, and in other cases, people are willing to use modification indices after the fact to change the paths in their model. This is unfortunate, as their model is generally overfit to begin with, and more so if altered in such an ad hoc fashion.
A more exploratory approach to graphical models is available however. Bayesian Networks, an approach within Pearl's structural causal model framework and which led to its development, are an alternative to graphical modeling of the sort we've been doing. Though they can be used to produce exactly the same results that we obtain with path analysis via maximum likelihood estimation, they can also be used for constrained or wholly exploratory endeavors as well, potentially with regularization in place to help reduce overfitting.
As an example, I use the McClelland data to explore potential paths via the bnlearn package. I make the constraints that variables later in time do not effect variables earlier in time25, no variables are directed toward background characteristics like sex, and at least for these purposes I keep math and reading at a particular time from having paths to each other. I show some of the so-called blacklist of constraints here. Note that we can also require certain paths be in the model via a whitelist.
    from         to
1 read21      read7
2 read21      math7
3 read21 attention4
4 read21     vocab4
5 read21    adopted
6 read21       male
Now we can run the model. In this case we'll use the Grow-Shrink algorithm, which is one of the simpler available in the package, though others came to the same conclusion26.
The plot of the model results shows that attention span at age 4 has no useful relationship to the other variables, something we'd already suspected based on previous models, and even could guess at the outset given its low correlations. As it has no connections, I've dropped it from the visualization. Furthermore, the remaining paths make conceptual sense. The parameters, fitted values, and residuals can be extracted with the bn.fit function, and other diagnostic plots, cross-validation and prediction on new data are also available.
We won't get into the details of these models except to say that one should have them in their tool box. And if one really is in a more exploratory situation, they would typically come with methods far better suited for the situation than the SEM tools, none of which I come across consider predictive ability very strongly. The discovery process with Bayesian networks can also be a lot of fun. Even if one has strong theory, nature is always more clever than we are, and you might find something interesting. See also the bnpa, autoSEM, and regsem packages for more.
Undirected Graphs
So far we have been discussing directed graphs in which the implied causal flow tends toward one direction and there are no feedback loops. However, sometimes the goal is not so much to estimate the paths as it is to find the structure. Undirected graphs simply specify the relations of nodes with edges, but without any directed arrows regarding the relationship. Such graphs are sometimes called Markov Random Fields.
While we could have used the bnlearn package for an undirected graph by adding the argument undirected = T, there are a slew of techniques available for what is often called network analysis. Often the focus is on observations, rather than variables, and what influences whether one sees a tie/edge between nodes, with modeling techniques available for predicting ties (e.g. Exponential Random Graph models). Often these are undirected graphs, and that is our focus here, but they do not have to be.
Network analysis
Networks can be seen everywhere. Personal relationships, machines and devices, various business and academic units… we can analyze the connections among any number of things. A starting point for a very common form of network analysis is an adjacency matrix, which represents connections among items we wish to analyze. Often it contains just binary 0-1 values where 1 represents a connection between nodes. Any similarity matrix could potentially be used (e.g. a correlation matrix). Here is a simple example of an adjacency matrix:
|   | Bernadette | David | J'Sean | Lagia | Mancel | Nancy |
| --- | --- | --- | --- | --- | --- | --- |
| Bernadette | 1 | 0 | 1 | 1 | 1 | 1 |
| David | 0 | 1 | 1 | 0 | 0 | 1 |
| J'Sean | 1 | 1 | 1 | 0 | 1 | 0 |
| Lagia | 1 | 0 | 0 | 1 | 0 | 1 |
| Mancel | 1 | 0 | 1 | 0 | 1 | 0 |
| Nancy | 1 | 1 | 0 | 1 | 0 | 1 |
Visually, we can see the connections among the nodes.
As an example of a network analysis, let's look at how states might be more or less similar on a few variables. We'll use the state.x77 data set in base R. It is readily available, no need for loading. To practice your R skills, use the function str on the state.x77 object to examine its structure, and head to see the first 6 rows, and ? to find out more about it.
Here are the correlations of the variables.
The following depicts a graph of the states based on the variables of Life Expectancy, Median Income, High School Graduation Rate, and Illiteracy. The colors represent the results of a community detection algorithm, and serve to show that the clustering is not merely geographical, though one cluster is clearly geographically oriented ('the South').
Understanding Networks
Networks can be investigated in an exploratory fashion or lead to more serious modeling approaches. The following is a brief list of common statistics or modeling techniques.
Centrality
Degree: how many links a node has (can also be 'in-degree' or 'out-degree' for directed graphs)
Closeness: how close a node is to other nodes
Betweenness: how often a node serves as a bridge between the shortest path between two other nodes
PageRank: From Google, a measure of node 'importance'
Hub: a measure of the value of a node's links
Authority: another measure of node importance
Characteristics of the network as a whole may also be examined, e.g. degree distribution, 'clusteriness', average path length etc.
Cohesion
One may wish to investigate how network members create communities and cliques. This is similar to standard cluster analysis used in other situations. Some nodes may be isolated.
Modeling
ERGM: exponential random graph models, regression modeling for network data
Other 'link' analysis
Comparison
A goal might be to compare multiple networks to see if they differ in significant ways.
Dynamics
While many networks are 'static', many others change over time. One might be interested in this structural change by itself, or modeling something like link loss. See the ndtv package for some nice visualization of such approaches.
Summary
Graphical models are a general way to formulate and visualize statistical models. All statistical models can be developed within this framework. Structured causal models provide a means to posit causal thinking with graphical models, and structural equation models may be seen as a subset of those. Path analysis within SEM is a form of theoretically motivated graphical model involving only observed variables. These models might include indirect effects and multiple outcomes of interest, and can be seen as an extension of more familiar regression models to such settings. However, path analysis is just one of a broad set of graphical modeling tools widely used in many disciplines, any of which might be useful for a particular data situation.
R packages used
lavaan

mediation

bnlearn

network